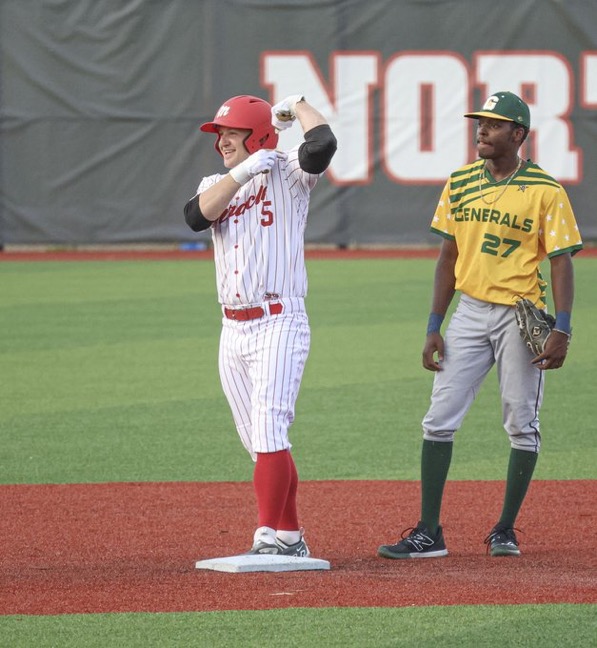 July 11 – Griffith Generals vs Elkhart County Miracle
Nappanee – The Elkhart County Miracle swept a doubleheader against the Griffith Generals on Tuesday. The Miracle took game one 2-0 and were victorious in game two by a score of 6-3. Both games went seven innings.
Game one was a pitcher's duel through the first four innings. Bryce Trail got the start on the mound and threw five scoreless innings. 
The Miracle broke through in the fifth when Dawson Willis pushed in Kameron Salazar with an RBI single. Elkhart County added one more in the sixth when Bryce Miller scored on a single from Jaden Miller.
Ethan Lengfelder shut the door out of the bullpen. He earned the save with two innings of scoreless baseball.
The Miracle kept the offense going early in game two and jumped out to a 4-0 lead in the first inning. Dawson Willis kicked things off with a 2-rbi double before Bryce Miller drove him in and later came around to score. 
Kameron Salazar pitched a complete game giving up just one earned run. Salazar also did his job at the plate going 3-3 with two runs scored.
After dropping a game Wednesday to the Oilmen, the Miracle return to action Thursday for a matchup with the top-ranked Corn Dogs.
Catch all Miracle games on MNC Nation 101.9 FM/1340 AM. You can watch live at www.elkhartcountymiracle.com/livestream/. Follow along on Twitter @Elkhart_Miracle. For information on tickets visit www.Elkhart County Miracle.com.
Photos provided by Branden Beachy