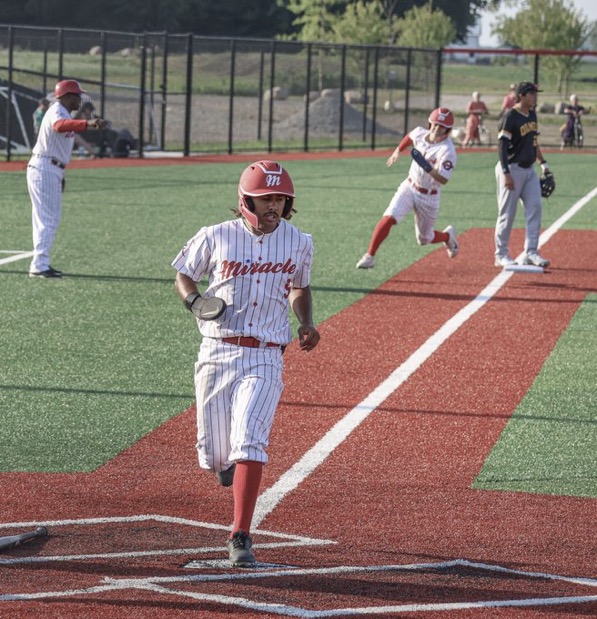 July 8 – Southland Vikings vs Elkhart County Miracle
Nappanee – The Elkhart County Miracle picked up a big win over the Southland Vikings on Saturday. The Miracle overcame an early deficit and won the game 8-3.
The Vikings jumped out early scoring two runs in the first. But thanks to a strong outing from Ian Hernandez, the Vikings scored just one more time the rest of the way.
The Miracle had opportunities early, but couldn't convert and stranded five men through the first two innings.
Elkhart County finally broke through in the fourth when they put up six runs and never looked back. A collection of hits, walks, and Viking errors helped the Miracle take the lead.
Hernandez continued to pitch a gem. Between the 2nd and 7th innings, he did not allow more than one base runner in an inning. Hernandez threw a complete game, giving up just five hits, striking out four, and giving up two earned runs.
The Miracle tacked on runs in the 7th and 8th and held on for the victory. Jaun Penueles and Bryce Miller both had big days at the plate. Penueles doubled twice in a three-hit game while Miller collected two hits, scored a run, and had an RBI.
"Good game," manager Wilson Valera said. "We got what we wanted from Ian and he said he was ready to go."
After dropping a game Sunday to the Oilmen, the Miracle return to action for a doubleheader at home against the Griffith Generals. Tickets for the game and all Miracle home games are still available and can be purchased in the "Tickets" tab.
Catch all Miracle games on MNC Nation 101.9 FM/1340 AM. You can watch live at www.elkhartcountymiracle.com/livestream/. Follow along on Twitter @Elkhart_Miracle. For information on tickets visit www.Elkhart County Miracle.com.
Photos provided by Branden Beachy