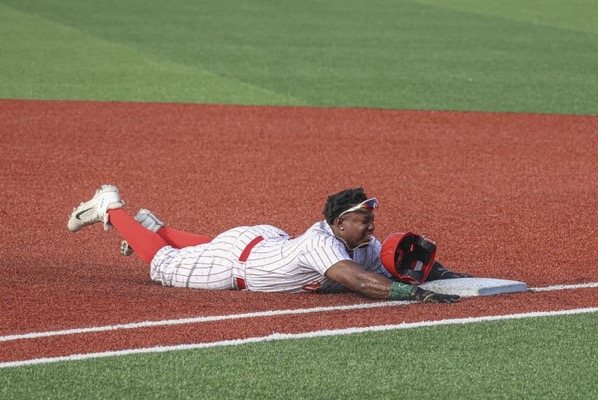 July 6 – Lake County Corn Dogs vs Elkhart County Miracle
Nappanee – The Elkhart County Miracle fell to the Lake County Corn Dogs in a pitchers duel on Thursday. The Corn Dogs' three runs in the eighth inning would be all the scoring in the loss.  
Bryce Trail got his first start in a Miracle uniform and looked phenomenal. Trail went five innings giving up just one hit and striking out four. 
Pitching continued to impress throughout the game as Corn Dogs starter Ryan Troxel threw six scoreless.
The Miracle had plenty of chances. They had runners in scoring position on multiple occasions but couldn't convert. The Miracle stranded 13 runners across nine innings of play.
Ian Hernandez threw an inning of scoreless ball before giving way to Sam Russo. Russo had a flawless first inning of work, but the Corn Dogs finally got to Miracle pitching in the eighth when Russo gave up three.
Elkhart County had a shot to tie it in the ninth with two on and just one out. But a fielder's choice and strikeout ended a would-be comeback. 
Wilson Valera said he was proud of how the team played, despite the loss.
"Great game man, we played good ball," Valera said. "They just got the hits when they needed to get it and we didn't, nothing to be too disappointed about, we played well."
The Miracle get a shot at revenge on Friday as the Corn Dogs return to town. Catch all Miracle games on MNC Nation 101.9 FM/1340 AM. You can watch live at www.elkhartcountymiracle.com/livestream/. Follow along on Twitter @Elkhart_Miracle. For information on tickets visit www.Elkhart County Miracle.com.
Photos provided by Branden Beachy