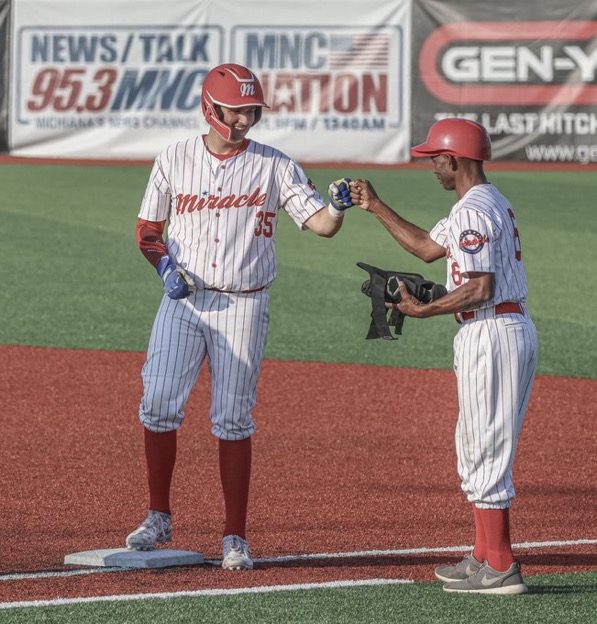 June 30 – Southland Vikings vs Elkhart County Miracle
Nappanee – The Elkhart County Miracle picked up a win in a wild game against the Southland Vikings on Friday. The Miracle came out victorious by a score of 9-8.
Southland opened the game with a double by Jack Fitzharris who came around to score later in the inning.
The first three Miracle batters reached base to start the game and Bryce Lesher cleared the bases with a grand slam. The home run for Lesher marked his first of the year. He extended his Northern League lead for RBIs, he now has 22 on the season. Ω
The Miracle proceeded to pour it on as the game went on. They scored runs in the 3rd, 4th, two in the 6th, and one more in the 7th. At the end of seven innings, they lead 9-1.
After giving up the early run, Sam Russo was lights out on the mound for Elkhart County. He finished the game with a line of 7.1 IP, 2 SO, and 2 ER.
The top of the eighth is where things got dicey for the Miracle. Russo exited with runners on first and second and Nathaniel Garcia relieved him. Garcia faced just three batters and gave up two runs. The third pitcher of the inning was Kameron Salazar. He gave up a grand slam to the first batter he faced before getting the next two Vikings to ground out.
The Vikings got out of the bottom of the eighth quickly and got right back to work in the ninth. With two on and two outs, Will Hill singled to left. It looked like the Vikings would score a run and have two on. But a strong throw from Bryce Miller in left was cut off by Kameron Salazar and thrown to third where Tomas Castillo tagged out a Viking base runner to end the wild sequence, and the game.
The Miracle survived and advanced to 12-15 on the season, just a game back of the 13-14 Vikings.
"The players feel more comfortable when they score early and we can hit with runners in scoring position," Manager Wilson Valera said. "But you have to play harder inning by inning."
The Miracle are back in action tomorrow for another matchup with the Vikings. The first pitch is set for 6:00 ET. Catch all Miracle games on MNC Nation 101.9 FM/1340 AM. You can watch live at www.elkhartcountymiracle.com/livestream/. Follow along on Twitter @Elkhart_Miracle. For information on tickets visit www.Elkhart County Miracle.com.
Photos provided by Branden Beachy