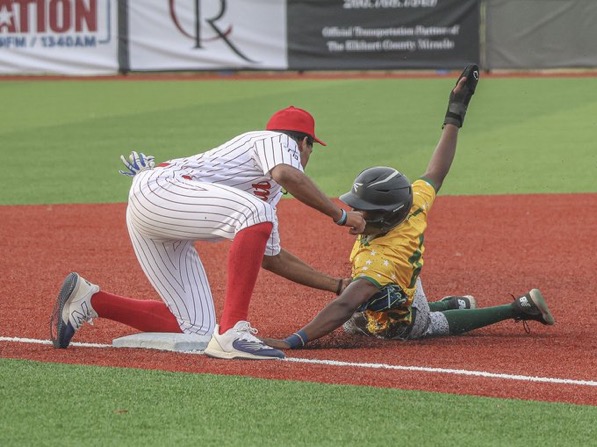 June 29 – Griffith Generals vs Elkhart County Miracle
Nappanee – The Miracle ended their five-game skid on Thursday. They returned home and defeated the Griffth Generals 9-4.
Ian Hernandez started on the mound for Elkhart County. He pitched 6.2 innings and gave up four runs. Hernandez, a mid-season addition for the Miracle, earned his first win for the red and white.
After trading runs in the first inning, the Miracle bats came alive. They scored two runs in the third and five in the fourth. The Miracle lineup combined for 11 hits. In the last two games against the Generals, the Miracle have combined for 26 hits.
The Generals added runs in the fifth and seventh inning and had a chance to start a rally in the ninth but with a pair of strikeouts and a pop fly, the Miracle locked up the win.
Dawson Willis continued his impressive stretch. Willis has a hit in seven straight games, 15 of his last 16, and 20 hits in his last 13 games. 
Bryce Lesher added three RBIs to his season total. His 18 RBIs lead the Northern League. He also leads the league in hits and doubles.
Wilson Valera said he hopes this game will give some confidence to the team as they look to turn things around.
"Hopefully tonight's game gives the guys some enthusiasm to keep playing like that," Valera said. " We had very good hitting at important times tonight. We scored runs and got ahead, which gave us some confidence. T
The Miracle continue their Independence weekend homestand tomorrow night against the Southland Vikings. Catch all Miracle games on MNC Nation 101.9 FM/1340 AM. You can watch live at www.elkhartcountymiracle.com/livestream/. Follow along on Twitter @Elkhart_Miracle. For information on tickets visit www.Elkhart County Miracle.com.
Photos provided by Branden Beachy