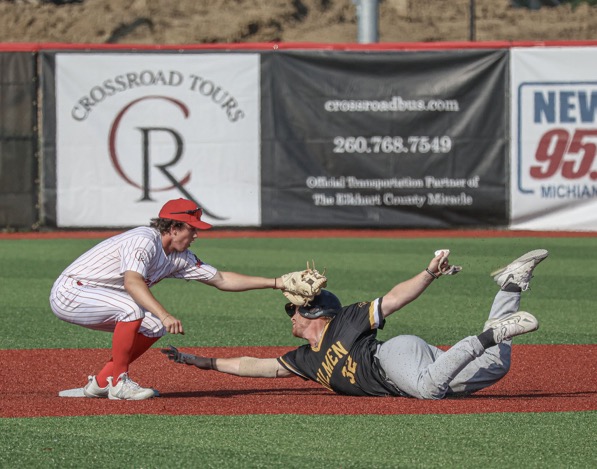 June 24 – Northwest Indiana Oilmen vs Elkhart County Miracle
Nappanee – The Elkhart County Miracle came out on the losing end of a back-and-forth affair against the Northwest Indiana Oilmen. The final score was 6-4. 
Both teams went scoreless for the first three innings of play. It was the Oilmen striking first with three runs in the top of the fourth.
The Miracle responded in the bottom half of the fourth inning with a run of their own. The sacrifice fly from Raybert De Los Santos made it a 3-1 game headed to the fifth.
After holding the Oilmen scoreless, the Miracle would tack on 3 runs in the bottom of the fifth inning. A two-RBI triple from Dawson Willis and an RBI single from Bryce Lesher gave the Miracle a 4-3 lead.
After a scoreless sixth, the Oilmen would regain the lead off of three hits and a Miracle error. Going to the stretch, the Miracle trailed 6-4.
Elkhart County had opportunities in both the eighth and ninth innings but stranded the bases loaded in the eighth and couldn't convert with runners on second and third in the ninth. 
Dawson Willis continued to impress by notching a hit for the 11th game in the last 12. Bryce Lesher added to his league lead in hits collecting his 25th of the year. Robin Vazquez went the whole nine for Elkhart County, he finished with seven strikeouts and gave up four earned runs. 
"We had a lot of opportunities to come back and we didn't take advantage," Elkhart County manager Wilson Valera said. "When you have guys in scoring position and less than two outs, you want to see some runs come around. We'll be back tomorrow!
The Miracle return to action tomorrow against the Southland Vikings. The first pitch is set for 2:00 PM ET. Catch all Miracle games on MNC Nation 101.9 FM/1340 AM. You can watch live at www.elkhartcountymiracle.com/livestream/. Follow along on Twitter @Elkhart_Miracle. For information on tickets visit www.Elkhart County Miracle.com.
Photos provided by Branden Beachy