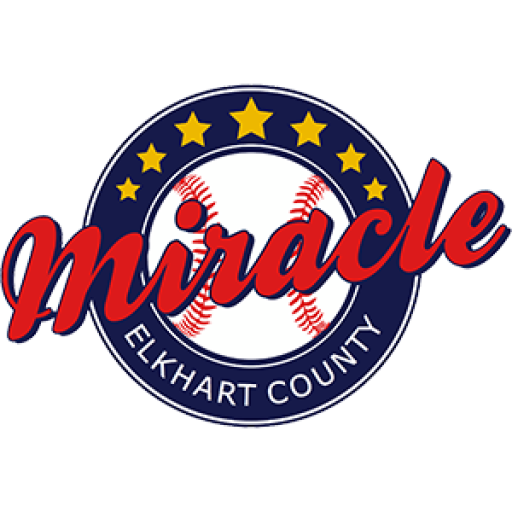 Media Days Press Release – 5/26/23
MINOR LEAGUE BASEBALL COMES TO ELKHART COUNTY NEXT WEEK
Northern League Expansion Franchise Media Day Set For Tuesday
ELKHART, INDIANA—The Elkhart County Miracle, an expansion minor league baseball team of the Northern League, will open its season on May 31st. Consisting of top-tier, college eligible, and minor league prospects from all over the country and the Dominican Republic, the Miracle features a 30-man roster that will play its home games at the new Northwood Field of Dreams Development in Nappanee.
The team's Media Day is Tuesday, May 30th, at 10am at the new complex adjacent to NorthWood High School. Players, coaches, and members of the Miracle corporate team will be on hand for pictures and interviews at the diamond.
"We are thrilled to be able to start", says Elkhart County Miracle President Craig Wallin. "It just helps check another
quality of life box for
Elkhart County adding
another great thing to do here at home this summer".
It's estimated the three-month economic impact generated by the team will approach $1,000,000 with a projected first-year attendance of over 30,000 fans. The Northern League was founded in 1902, and is comprised of players working their way toward the major leagues. The league features teams from across Northern Indiana and Chicagoland and is credited with giving Hank Aaron, Roger Maris, and Don Larsen their start in what would become Major League Baseball Hall of Fame careers.
The team's ownership group features three area executives with past minor league experience including Baseball America's Executive of the Year, John Baxter, and former Seattle Mariner draft pick and Notre Dame quarterback, Evan Sharpley. Wallin served as the first tv and radio broadcaster for the Chicago White Sox minor league team in South Bend (currently the South Bend Cubs) when it debuted in 1988, and is the Miracle's president and founder.