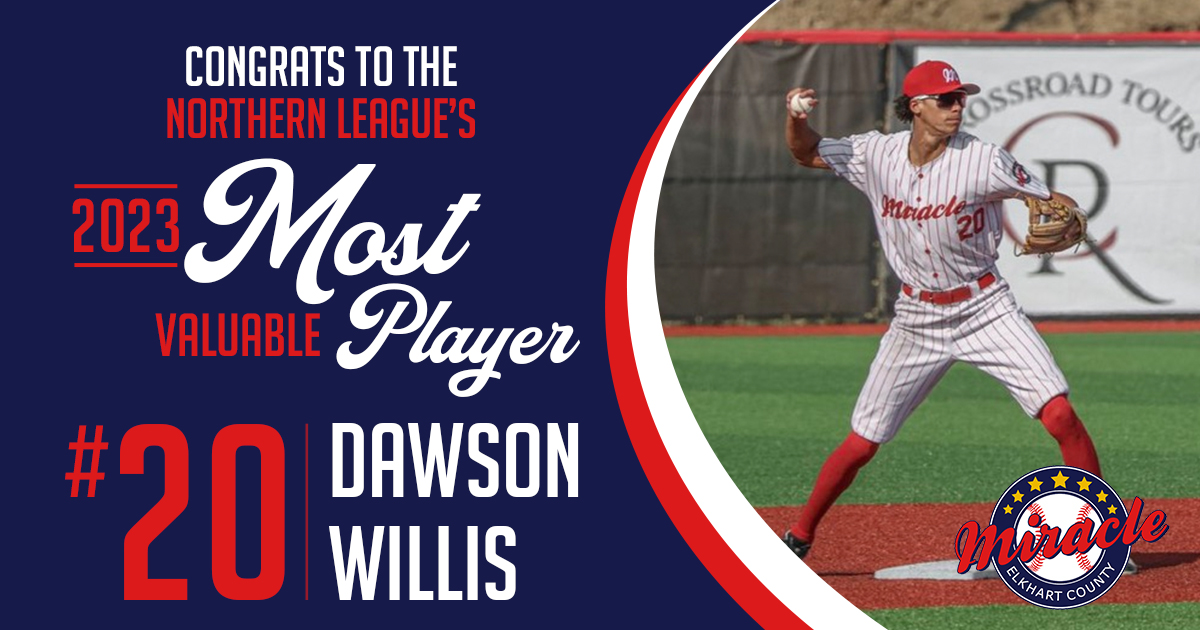 Northern League Announces 2023 Major Awards, All-League Team
Thanks to everyone who supported the Elkhart County Miracle in our inaugural season! Your passion for our team is obvious and we look forward to seeing you at the park next year!
Chicago, Ill. – Aug. 4, 2023 – The Northern League has announced its 2023 major award winners and All-Northern League Team in advance of the league's playoffs, which begin on Saturday.
Dawson Willis of the Elkhart County Miracle has been named Northern League Most Valuable Player, while Nolan Vlcek of the Southland Vikings has been named the league's Pitcher of the Year. In addition, Justin Huisman of the Lake County Corn Dogs repeated as the League's Manager of the Year.
The major awards were voted upon by the league's managers and broadcasters, while the All-NL Team was determined by a broadcaster-only ballot. The All-NL Team – which can be found below – is headlined by a pair of unanimous selections, Vlcek and Northwest Indiana Oilmen pitcher Joey Turek.
Willis ranked fourth in the league in batting average at .322 and fourth in RBIs with 29 while leading the league with 28 stolen bases. He reached base at a .429 clip while slugging .489 in 48 games, accumulating 42 runs scored, 58 hits, 15 doubles, six triples, a home run and 29 walks.
Vlcek dominated the Pitcher of the Year voting, earning nine of 11 possible first-place votes. He led the league with a glittering 1.94 earned run average while tying for the league lead in wins with six and ranking fourth with 48 strikeouts. Vlcek, in his third season with Southland, will go down as one of the most successful players in Vikings history.
Huisman earned his second straight Northern League Manager of the Year nod after leading the Corn Dogs to a 33-13 mark and a .717 winning percentage en route to their second straight NL Regular Season title. The Corn Dogs are the No. 1 seed for the Northern League Playoffs as they seek their second straight league crown. Huisman becomes the first two-time Manager of the Year in league history. The league began awarding the Manager of the Year honor in 2015.
The No. 2 Northwest Indiana Oilmen and No. 4 Southland Vikings will meet on Saturday at 7:10 p.m. at Oil City Stadium in Game 1 of one NL Semifinal Series, while the No. 1 Lake County Corn Dogs and No. 4 Indiana Panthers start their best-of-three series on Saturday at 7 p.m. at Legacy Fields.
2023 NL Major Awards
MVP – Dawson Willis, Elkhart County
Pitcher of the Year, Nolen Vlcek, Southland
Manager of the Year – Justin Huisman, Lake County
2023 All-Northern League Team
Pitchers
Nolen Vlcek, Southland (unanimous)
Joey Turek, NWI (unanimous)
Brandon Laux, NWI
Tyler Laux, NWI
Ryan Troxel, Lake County
Conor Gausselin, Elkhart County
Position Players
Catcher – Ranko Stevanovic, Lake County
Middle Infield – Dawson Willis (EC), Kevin Hall (LC) and Randy Seymour (NWI)
Corner Infield – Bryce Lesher (EC) and Kevin Bushnell (IND)
Outfield – Owen Winters (LC), Nic Altobelli (GRIF), George Bilecki (IND) and Kevin Denty (NWI)
Northern League Manager of the Year History
2023 – Justin Huisman, Lake County Corn Dogs
2022 – Justin Huisman, Lake County Corn Dogs
2021 – Joe Silva, Joliet Generals
2020 – Isaac Valdez, Crestwood Panthers
2019 – Jake Wegner, Bloomington Bobcats
2018 – Ben Caple, DuPage County Hounds
2017 – Kevin Franchetti, Southland Vikings
2016 – Tom Barry, Joliet Admirals
2015 – Sean Osborne, DuPage County Hounds
Northern League MVP History
2023 – Dawson Willis, Elkhart County
2022 – Michael Gould, Joliet Generals
2021 – Bryce Vincent, Joliet Generals
2020 – Ray Hilbrich, Crestwood Panthers
2019 – Nick Santoro, DuPage County Hounds
2018 – Nate Montgomery, NWI Oilmen
2017 – Jack Butler, Bloomington Bobcats
2016 – Tyler Sroczynski, NWI Oilmen
2015 – Tyler Sroczynski, NWI Oilmen
2014 – Bobby Sheppard & Jeff Boehm, Southland Vikings
Northern League Pitcher of the Year History
2023 – Nolan Vlcek, Southland Vikings
2022 – Ryan Troxel, Lake County Corn Dogs
2021 – Jack Guzek, NWI Oilmen
2020 – Jordan Smevoll, DuPage County Hounds
2019 – Justin Rios, Southland Vikings
2018 – Quinn Gudaitis, Bloomington Bobcats
2017 – Kevin Glynn, Southland Vikings
2016 – Mitch Weis, Bloomington Bobcats
2015 – Tom Concklin, DuPage County Hounds