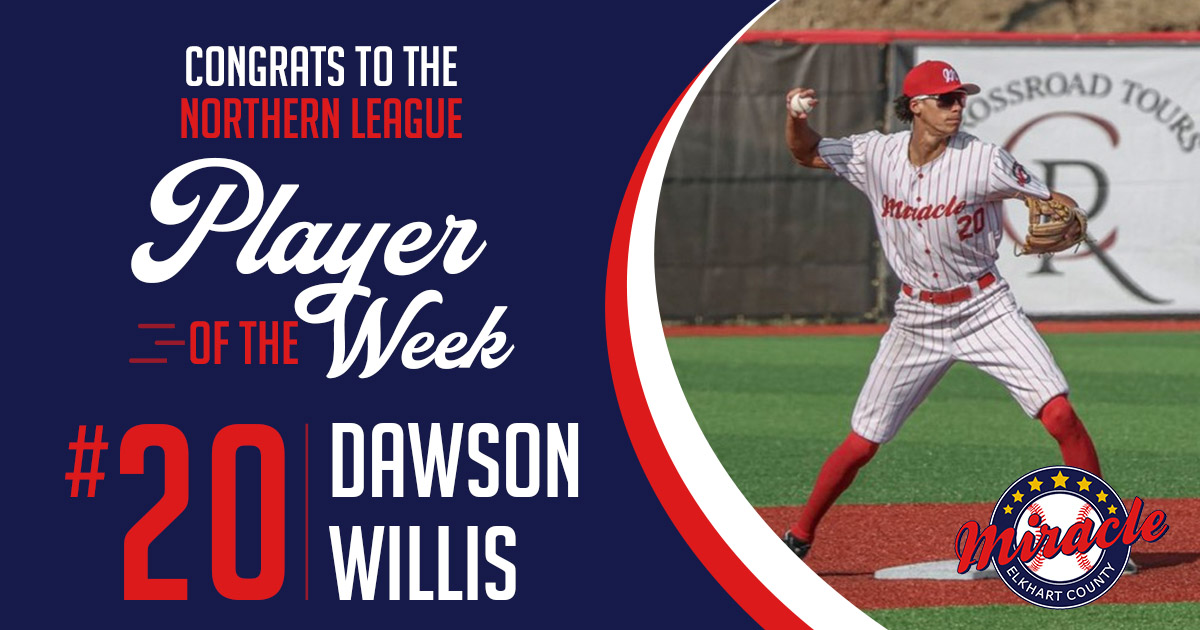 Dawson Willis Recognized with Northern League Honors
Chicago, Ill. – July 18, 2023 – The Northern League has announced its weekly awards for this past week as Dawson Willis (LSU Eunice / Ruston, La.) of the Elkhart County Miracle has been named Northern League Player of the Week and Will Moell (John Hopkins / Munster, Ind.) of the Southland Vikings has earned Pitcher of the Week honors.
Willis went 12-for-23 this week, batting a robust .522 while driving in seven runs, scoring eight times and stealing six bases. He also launched a home run, a triple and two doubles as part of a banner week, earning the Player of the Week honor on a unanimous vote.
Moell started against the Miracle on July 14 and took a no-hitter into the seventh inning. He allowed a two-out single in the seventh and then struck out the next hitter to finish his day. He tossed seven shutout innings of one-hit ball while allowing four walks and striking out eight to bring his season total to a league-leading 45 strikeouts.
The Miracle have won six weekly awards this season, while Moell becomes the first Vikings this year to be recognized.
2023 Northern League Players of the Week
June 6 – Ray Hilbrich, Lake County (unanimous)
June 12 – Kevin Denty, NWI
July 19 – Hayden Matulich, Lake County (unanimous)
June 26 – Bryce Lesher, Elkhart County
July 3 – Kevin Bushnell, Panthers (unanimous)
July 10 – Doug Loden, Lake County (unanimous)
July 18 – Dawson Willis, Elkhart County (unanimous)
2023 Northern League Pitchers of the Week
June 6 – Ethan Lengfelder, Elkhart County
June 12 – Conor Gausselin, Elkhart County
June 19 – Ethan Lengfelder, Elkhart County (unanimous)
June 26 – Conor Gausselin, Elkhart County (unanimous)
July 3 – Steve Washilewski, NWI
July 10 – Steve Washilewski, NWI
July 18 – Will Moell, Southland